Back to COMMISSIONS <<
Installations

Golden Geometry, 2008 (see Details below)
Location: ForestCity Enterprises Science + Technology Park, Skokie, IL
Fused, slumped glass, copper
Each panel: 32" x 22" x .75"
"Golden Geometry" as it is about perfection in arrangement and proportion. The central panel uses the shape of the alchemist's egg to illustrate how combined geometric forms contain all the numbers from 0 to 9. There is a drawing scratched into copper powder; The knot pattern can also be seen on all computers as the symbol for "command." The scientist has command over his projects through his applied knowledge. There is a visual excitement due to the play of the pattern versus the intense jewel tones, muted tones and organization.
Detail 1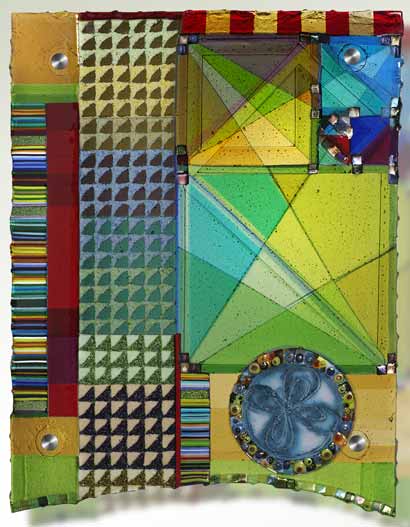 Detail 2
Detail 3