About the Artist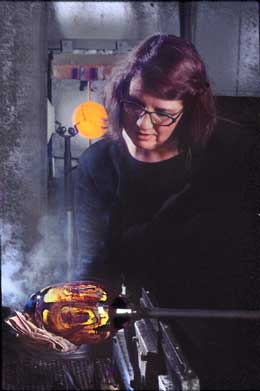 Rene Culler has worked with glass for more than 30 years. Because of the versatility of the material, she uses a variety of glass techniques that dovetail to her ideas. She writes about her work:
I work primarily in glass which employs light to animate my compositions and sculptures. I am inspired by history, mythology, literature, and pattern in music and the decorative arts; functional forms in glass and clay, Turkish Iznik and Mediterranean Majolica tiles, complex oriental carpet design and textiles. I have developed a paint that I encapsulate within fused glass that I utilize in new work for the wall: the "Magic Squares" series. This work has developed as a result of my travels and investigations into the marvelous Islamic tiles of Spain and Turkey, and the historical interaction of Mediterranean cultures.
I teach in International and National workshop programs in Glass. I write about my experiences, and my work. I am producing a series of books on glass working technique inspired by the visual arts.
I am very interested in producing imaginative site specific work in glass. I enjoy working with architects, designers, and art consultants to create permanent installations that hopefully intrigue and inspire the public.
Please enjoy my site and I hope to hear from you at Rene Culler.
Now blogging about my book at Vitreous Vixen.