Back to COMMISSIONS <<
Installations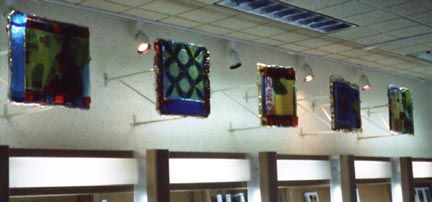 Books Endure (see Details below)
Permanent collection of the Cuyahoga County library, Fairview Park, OH
Approximately 18" x 18"
"Books Endure" is a timeline of the book installed above the video cabinets. There is a message in that location... The timeline begins with Egyptian papyrus and advances through time even into modern day with a representation of a computer. An artist's sketchbook, a comic book and the classics are represented. Each of the 10 panels is fused glass with enamels and some copper.
Detail 1 (The Illuminated Manuscript)
A depiction of the jewel encrusted illuminated manuscript represents hand made and lettered books from the middle ages before the advent of the printing press.
Detail 2 (Shakespeare)
The final book in the timeline, although an author from the Renaissance, Shakespeare and his universal subjects are timeless and have endured.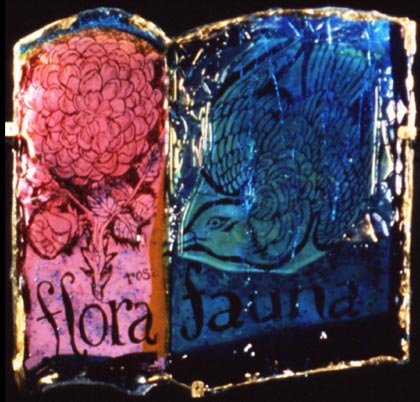 Detail 3 (Flora and Fauna)
A representation of a Naturalist's Journal, is a remembrance of when ordinary people or the extraordiary such as Audubon, would make personal studies of the natural world.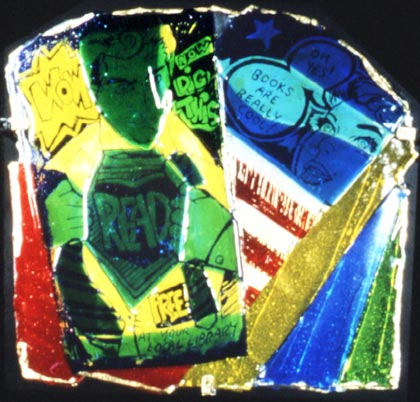 Detail 4 (Comic Book)
Books can be low brow as well as classic. Many tales from the comics utilize story lines borrowed from heroic myths. Some children are introduced through reading through the comics, and the the comics of today can be very sophisticated and written for adults.
Detail 5 (The Artist's Sketchbook)
Writers are often inspired by art. The work of Leonardo DaVinci has inspired scientists as well. His sketches; notations of thoughts, represent the books of artists.