Back to COMMISSIONS <<
Installations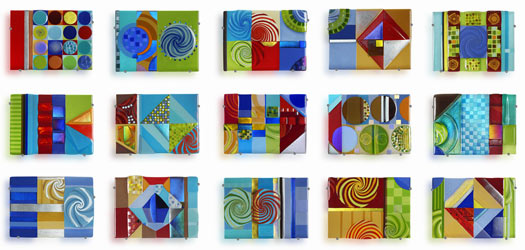 Color Field, 2008 (see Details below)
Location: ForestCity Enterprises Science + Technology Park, Skokie, IL
Fused glass with enamel and dichroic glass
6' x 13'; each panel: 16" x 22"
The installation of glass panels was designed to be viewed from out of doors through the "store-front" type site in a Moderne style building. The wall of glass is designed to have major impact when viewed from the interior garden courtyard of the research campus. Basic design components of geometrical shapes are repeated as in counting to indicate change, transformation and development of an idea.
Detail 1
Detail 2
Detail 3